In these times, all types of businesses require excellent customer service to progress. There are several ways to achieve these goals. One of the simplest ways is to have the most appropriate point of sale system in place.
Also, it is possible to perform several tasks in much less time. So, taking inventory or charging each customer will be much quicker and easier than before. In particular, bars have a specific point of sale system.
In this case, these systems consider each of the activities that are carried out in this or business. In turn, it can be a little overwhelming to choose the right system. This is because there are so many different systems that are available today. That's why, below, we discuss the 6 best options you have available to you.
The 6 Best Bar POS System Providers in the US
| | | | |
| --- | --- | --- | --- |
| System | Main fees | Software Cost | Hardware Cost |
| TouchBistro | May vary from payment processor | From $69 x month  | By quote |
| Revel | Varies by business | $79 x terminal x month | $649 – installation |
| Square | Starting at 2.6% and 10¢ per payment | Starts at $0 x month | $799 for Square Register |
| Lightspeed | $0.10 and 2.6% each Swiped – $0.30 and 2.6% each transaction | $69 x month – 1 location and 1 registration | $0 |
| Toast | Rates may vary according to use | $79 x month | $499 – installation |
| Epos now | Varies | From $39 x month | N/A |
Revel Restaurant systems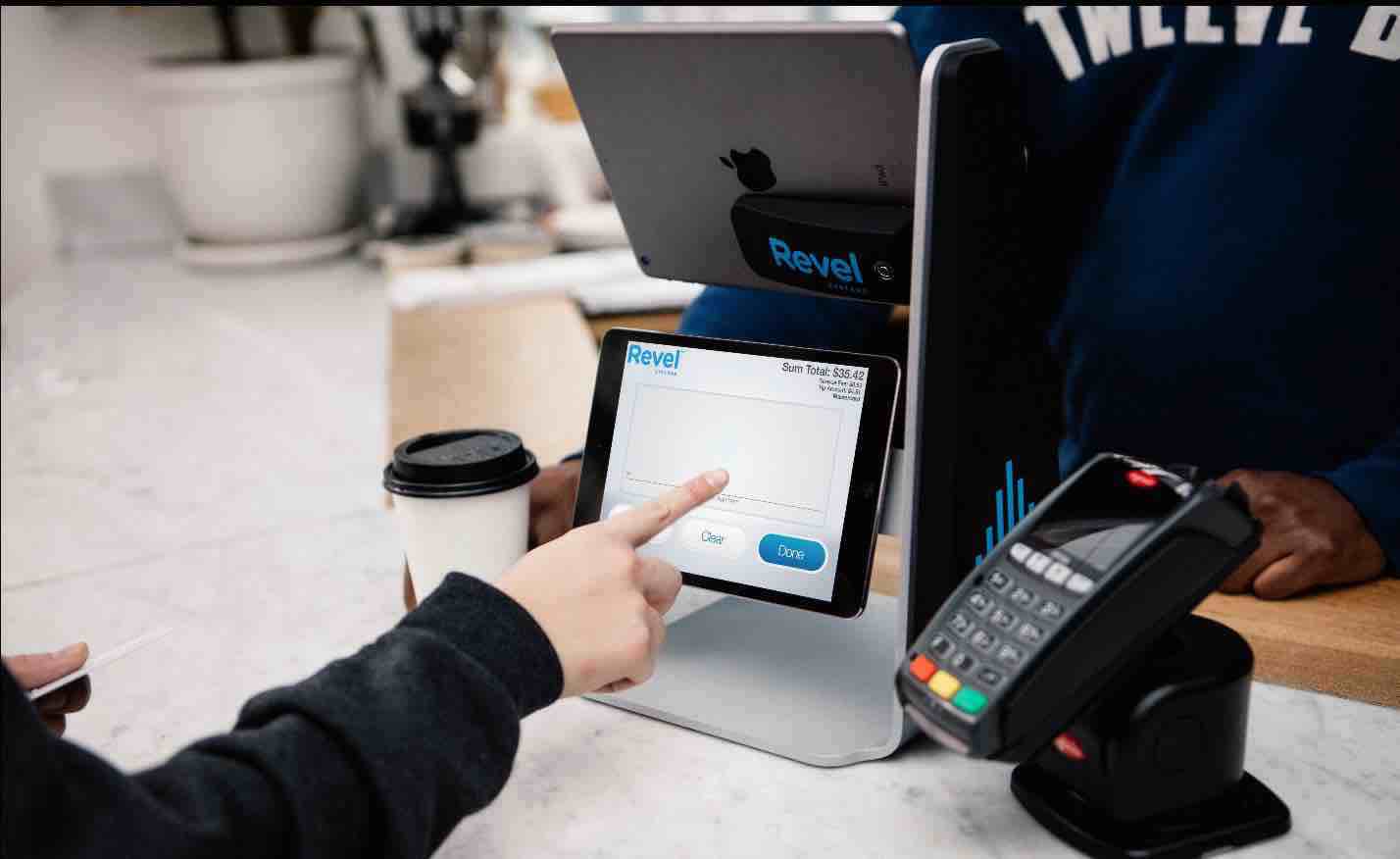 In particular, Revel systems provides a set of functions that are very useful for daily activities. At the same time, it is an interface that is very simple to use by all members of the business. 
For this purpose, an interface has been developed that offers a high degree of interaction. Also, custom hardware can be specially adapted to your business. Therefore, we must mention its best features.
Excellent set of tools
One of the best ways to optimize the operation of a business is by improving the back-office area. That is why, on this occasion, tools, skills, reports, and an optimized administration of this area are included.
One of the best ways to achieve this is through the CRM system. This system will allow you to track your best customers exhaustively. In the same way, you will be able to improve the submenu to increase the number of regular customers.
Operation with backup
Regardless of whether your business has a problem with the Internet, this point of sale system will continue to work. This way, no specific transaction or function will be lost.
You will also have continuous access to the vast majority of functions. Once your internet service is back up and running, this pos system can be synchronized.
Weak point
It could be that this point of sale system entails a high cost for small businesses. However, when properly used, this high cost can be better managed.
Shopkeep
Another highly recommended service is this point of sale system. In particular, Shopkeep is an application specially created for the iPad. Also, it offers a platform to optimize the tasks of Back Office.
Whether you need to accept an order or process transactions, you can do everything from this application. In the same way, the back-office function will allow you to improve your business management. 

Highly functional application
Any system that allows you to process payments and perform similar functions effectively is highly convenient. Even here, you will be able to offer your customers a host of different payment methods.
Moreover, you will be aware of all transactions and discounts made. So, you can perform all activities from one device. 
Optimized business management
Along with the rest of the functions, we must add the correct administration of your company. First of all, it is an interface that is very simple to use by any type of user. So, you will be saving the cost of training.
On the other hand, it will be much easier to track and classify the different performance of employees. It is also possible to configure the access that each employee needs to have to the system.
Weak point
In this case, the most obvious weakness is the lack of compatibility with businesses that have more than one location.
Lightspeed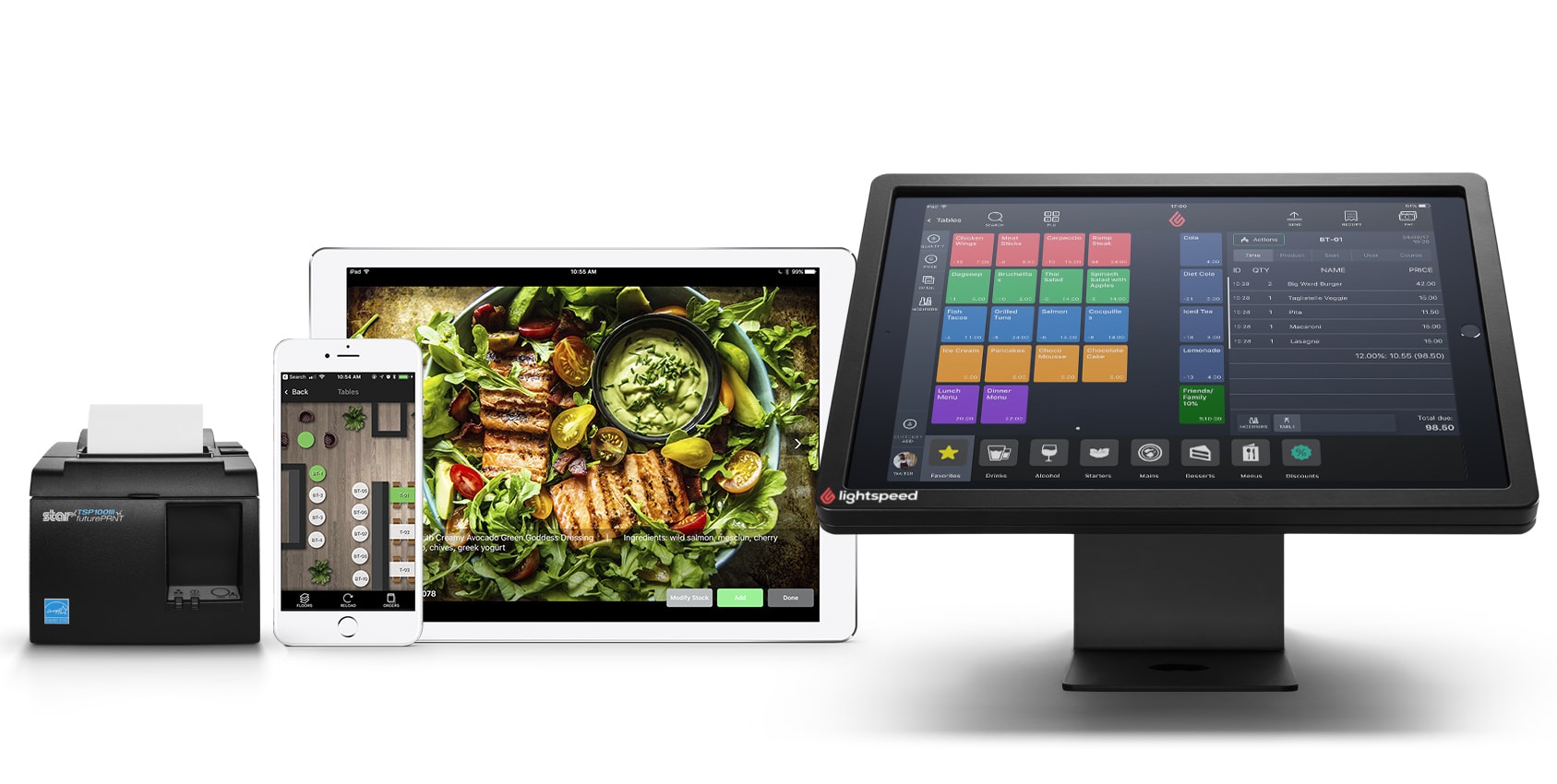 In this case, we can name a point of sale system that is useful for bars, as well as for restaurants. One of Lightspeed Restaurant best qualities is the ease of use of the interface. That is why its best features are considered for the different needs of retailers.
Excellent data handling
Lightspeed is a point of sale system that uses a cloud to optimize its service. So no matter where you are, you will have full access to your data. At the same time, this offers you the possibility to have different locations of shops.
Powerful and easy features
On the one hand, you will have the ability to process payments and take orders with excellent speed and simplicity. In this way, it is possible to avoid spending too much time when the waiter has to go to the kitchen or the bar.
In a matter of seconds, you can offer the customer different payment methods. If the customer pays by credit card, the waiter can process the payment on the spot. 
Weak point
One of the weaknesses of this system is found in the basic plan. The functionalities and scope of this basic plan are more than insufficient for a large number of restaurants and bars.
Toast Restaurant POS
We can safely say that Toast POS is a very good provider of restaurant POS systems in general. A large number of entrepreneurs manage to gain the loyalty of their best customers and increase the number of sales.
Among its best features, there is the interaction with customers and waiters, the quality of payment processing, and the speed of order taking. That is why we must mention its other characteristics.
Excellent menu management
In principle, you will have the possibility to design each menu of your restaurant or bar. In this way, it will be much easier to offer customers what they want. At the same time, inventory management allows you to update the system automatically. This means that each menu can be configured according to your available inventory.
Mobile devices
This point of sale system will allow you to have mobile devices for optimized customer service. So, this shortens the time of payment processing and customer orders. Besides, each customer will have a large number of payment methods available within a few seconds.
Weak point 
The initial cost may increase as you will need certain features and add-ons that only Toast offers.
Final Words
Getting a bar to develop efficiently can be tricky. That is why it is essential to have a highly efficient point of sale system. Therefore, each of the options we have listed can offer you different functionalities and advantages. Therefore, you should choose the one that best suits your needs.
Best POS software