Usually, liquor stores have their special features. However, those stores that stand out are the ones that can offer excellent customer service. In turn, it is necessary to adapt to the changing requirements of different customers.
That is why having a point of sale system is important. In this way, stores can take advantage of the peak demand for their products.
Choosing the best point of sale system for liquor stores can be overwhelming. That's why, below, we list the top five options available to you today.
The 5 Best Liquor Store POS System Providers
| | | | |
| --- | --- | --- | --- |
| POS System | Main Fees | Software Cost | Hardware Cost |
| Heartland | According to the budget | Starting at $80 x month | According to the budget |
| CashierLive | 2.7% | 75 per month | $0 |
| Lightspeed | $0.10 + 2.6% x transaction | 99 x month – $29 extra unit – extra supplements separately | $0 |
| Shopkeep | $0.30 + 2.5% new transactions | 69 x month – $29 x extra device | According to the budget |
| HarborTouch | $0 | Echo POS x month $29 – Elite POS x month $49 | $0 |
Heartland POS
A good option available today is this point of sale system. Among its best features are staff management, proper pricing, and inventory control.
Excellent payment processing
One of the advantages of using this point of sale system is the security with credit cards. All the features needed to prevent data and identity theft are included. So none of your customers will suffer any inconvenience in any of their purchases.
Mobile service available
One of the ways to optimize time is with mobile devices. In this case, you will be able to process credit card payments since a card reader is included. At the same time, users will be able to use mobile applications, such as Google Play, Apple, and iTunes.
E-commerce
In this case, an online platform is included for trading and securely searching for products. In this way, the various owners will be able to rely on proper secure encryption. So, it is a higher level of convenience to develop this business.
Efficient virtual terminals 
Every employee will be able to make payments from customers using credit cards. This task can be done through computers or mobile phones. In turn, it is possible to accept different payment methods, either by a virtual terminal on a PC or a mobile phone. 
Correct check verification and efficient credit card payment are included for enhanced functionality. Also, each employee will have the choice between entering an encrypted pin, or credit card information to complete the payment process.
CashierLive
An excellent way to perform good inventory management is to use this liquor POS system. You will be able to manage the inventory, your customers, and your employees. At the same time, it is possible to achieve a fully optimized business management.
On the one hand, you will need an internet connection when using the mobile point of sale system. Besides, this allows complete and effective integration of each of the functions of the cashier in real-time. On the other hand, to be able to perform all the mentioned functions, a free application available for iPad and iPhone is included.
Customer Tracking
You will have the ability to integrate a bar code scanner, a cash drawer, and a receipt printer thanks to the live cashier. Therefore, you will be able to offer more effective and faster customer service. 
At the same time, it will be very easy to perform different types of transactions, such as payment or return processes. In this way, you will avoid wasting time on somewhat complicated operations in other systems.
Stock control
On the one hand, it is possible to get an effective tracking of the inventory you have available in real-time. At the same time, this system is updated after returns and sales every day. Thus, efficient stock control will allow you to make faster and more accurate decisions.
Moreover, a large number of search filters are included to find the data you want to visualize. So, you can search for an order number, supplier, description, and other filters.
Excellent accounting function
One of the most important aspects of any business is accounting. This pos system understands this aspect, and that is why it has included it in its operation.
So, you will have access to different types of reports and data. Use each of these reports and data to make the best decisions and get your business to grow next.
Lightspeed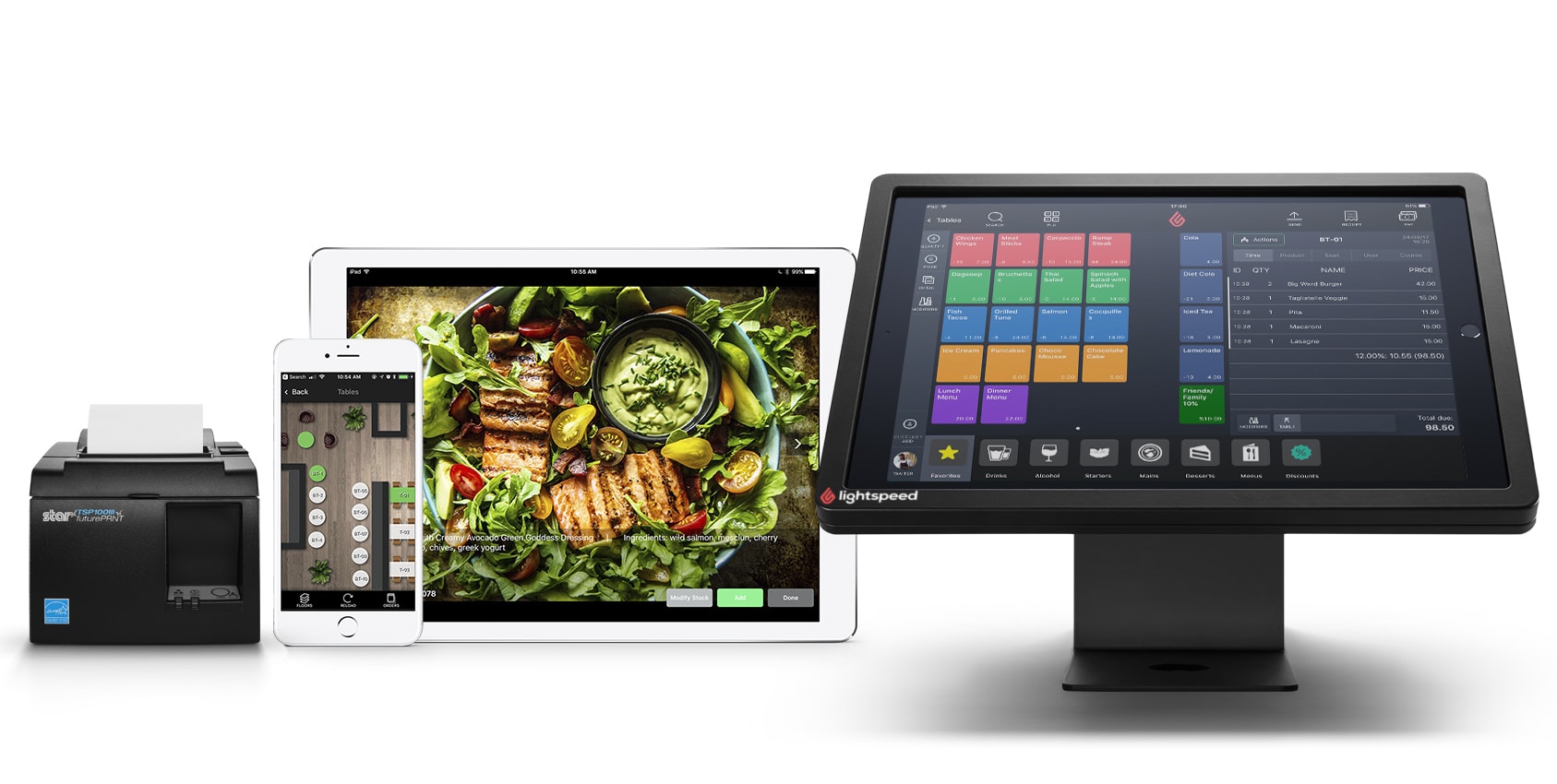 With Lightspeed Restaurant, we must mention a point of sale system that is highly functional for this type of business, and also for other different types. It is possible to achieve through this supplier excellent quality in hardware and software.
So, you can optimize every single daily activity of a medium and even small liquor store. To understand this, we must list its main features. 
Inventory control
You will have the ability to reach into your employees the efficient management of the inventory. In turn, some functions allow you to calculate sales and discount strategies, compare product prices, and manage inventory in real-time. In the same way, you can view pdf files of available products.
Available data and reports
The best way to make good decisions is to have the data in hand. That's why this section includes reports, data, and various analyses that are available to you. Use each of these data to make assertive decisions.
On the other hand, you don't have to worry about reports and analyses that are too complicated to understand. In some of these reports, you will be able to view employee performance or sales made in a day. And you don't have to be at your business to access these features.
Customer tracking
By using this POS system for your liquor store, it is also possible to build up the loyalty of the most regular customers. In particular, it is possible to configure and detect the preferences of each customer. In this way, you will be able to propose better marketing strategies and loyalty programs. 
Shopkeep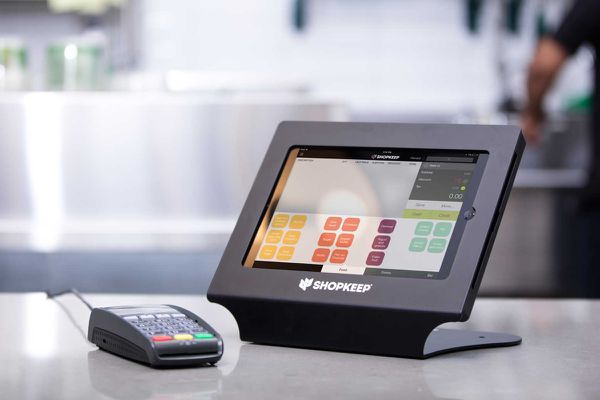 A really important feature is the ease of use of the interfaces. With Shopkeep, every employee will have this feature to optimize customer service. On the other hand, several useful options are included, such as efficient inventory control, alerts, and better company management.
Efficient automation
Automation processes usually manage to offer a lot of advantages for a company. That is why, in this case, you will be able to automate the accounting, the administration of your personnel, and the control of the inventory.
Thus, this simple function can save a great deal of work time. In turn, this translates into a great deal of money saved.
Integrated Back Office 
The back-office function incorporated here allows for further optimization of the smooth functioning and correct articulation of the company. On the one hand, it is possible to correctly monitor the performance of the staff and the working hours by the managers.
On the other hand, each employee will be able to personalize e-mail or paper receipts, check inventory every day, and print bar code labels. So, more efficient management will make it easier for you to achieve your next business growth.
E-Commerce
An e-commerce system is also included here to optimize the complete functionality of this point of sale system. So, if your liquor store has a BigCommerce site, you can integrate it with Shopkeep.
Harbortouch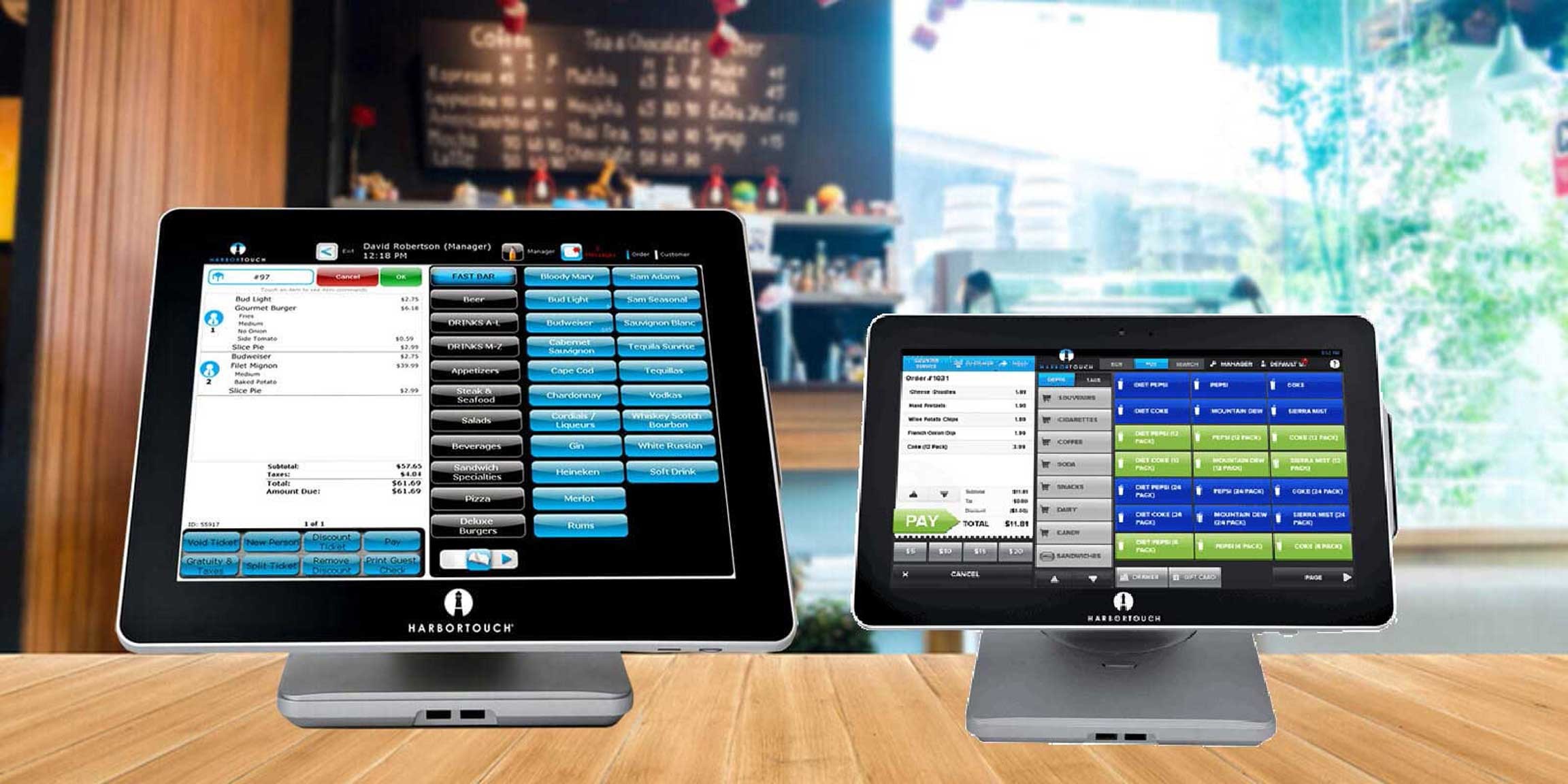 Finally, we should mention this point of sale system that is adapted to the characteristics of each company. For this, any merchant will have two different packages to choose from. Each of them has specific software, hardware, and platform.
It is also possible to integrate this system with the systems that liquor store owners already use. This is why it is a highly versatile and complementary option.
Different means of payment
In these times, the means of payment are becoming more and more numerous. Therefore, all merchants who manage to upgrade will be in a better situation. In this case, if you choose the Echo package, you will be able to accept payments with Google Wallet and Apple Pay. 
Encrypted and secure data
The technology required to protect data circulating between different devices has been included in the operation. Thus, order transactions and other functions can be performed in a highly secure manner. In turn, this will provide greater security for each of your customers.
Cloud Data Storage
All cloud point of sale systems that include cloud storage is more efficient. This means you will have secure and fast access to all your business data from any device. So, it is possible to create a backup in the cloud no matter where you are.
Final Words
As we have seen the most efficient point of sale systems are not only useful for processing payments. On the contrary, it is possible to perform a large number of functions in less time than usual.
In turn, saving work time in your company means saving money to carry out those tasks. So, after finding the best point of sale system for your liquor store, getting your next business growth will be easier.
Best POS software